Our Work
We're proud of the creative work we undertake for our clients and the positive impact it has on their businesses. Here are just a few content marketing examples from our portfolio.
Are you wondering what kind of content marketing work we do for our clients? Do you want to see specific examples of projects we've produced? Or perhaps you just need some inspiration for generating creative marketing ideas?
You're in the right place. Below you'll find a selection of projects we've completed for clients involved in a wide range of industries, both B2B and B2C. These examples represent just a tiny fraction of our creative content marketing work.

Tanners Wines Ltd – Recipe cards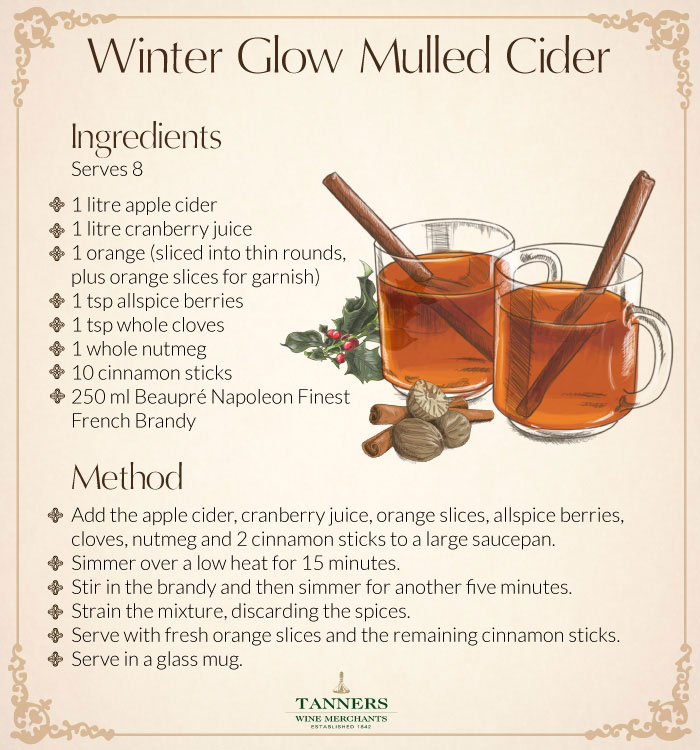 What is it?
In the run up to Christmas, Tanners Wines wanted to produce seasonal content that was both useful and interesting to their customers, but would also help drive traffic to product pages on the website.
We came up with a series of 'Christmas cocktail' recipe cards, beautifully illustrated to be in-keeping with the brand and also featuring links to the products used in the recipes.
Why recipe cards could work for you
Recipe cards and books have long been a content marketing tactic in the offline world (for example, we remember there being loads of manufacturer-branded microwave cookbooks in the 1980s). When done right, they can work brilliantly online as they're useful and innately shareable, especially via Pinterest.
Any consumable goods business could benefit from recipe cards that include the products they sell, but cards could work equally well for retailers dealing in related appliances, gadgets, cookware, glassware, crockery, utensils and so on.
Recipe cards don't have to apply just to food and drink. With a little lateral thinking, you could apply the same 'recipe' principle to all manner of goods and services. Think recipes for a healthy car or a great garden or achieving a certain dress style etc.
[Back to top menu]

Woodhouse Clothing – Denim Guide microsite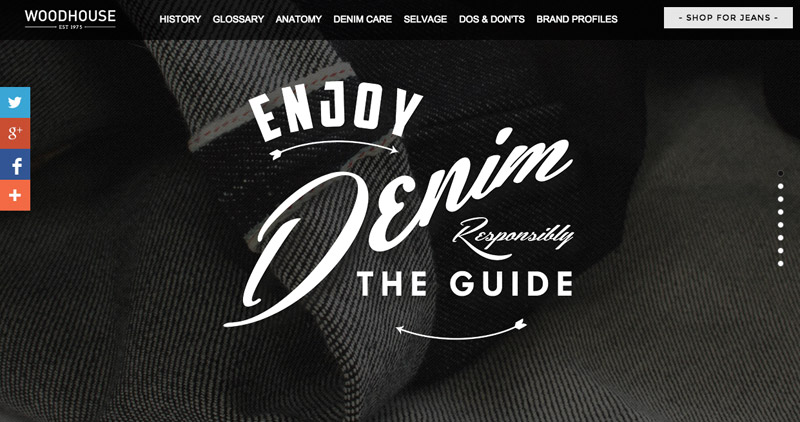 What is it?
The first of two microsite examples, this is a comprehensive guide to denim jeans, from the history of denim and its manufacture, to how to care for jeans and profiles of major brands.
Men's fashion retailer Woodhouse Clothing already had this great piece of content, but in print rather than digital form. We took the content and presented it within a ultra-modern, mobile-friendly microsite.
Why microsites could work for you
If your business offers many different products or services but there are particularly areas you want to focus on, a microsite is a great option. As with the above example, a microsite allows you to demonstrate authority on a specific subject, it can contain information that's genuinely useful to your audience and it can point your audience to the products or services you want them to buy.
[Back to top menu]
All Terrain Cycles – Tour de France Winners interactive map
What is it?
This interactive map allows you to view the winners of every Tour De France by the country they represented. Clicking on a country shows you all of the winners from that country, and then you can look at the profiles of each rider and the details of their victory. The flags represent their birthplace.
Why interactive maps could work for you
The popularity of Google Maps is in itself testament to why interactive maps are a great content marketing idea; your audience will already be familiar and comfortable with the concept and how it works. In terms of presenting location-based information, the possibilities are near endless. You could use a map for everything from displaying all the locations where your business is based and what happens at each location, to showing where key historical events relating to your industry took place and why that event was significant.
[Back to top menu]
thomsonlocal – Advice for Starting a Small Business interactive content curation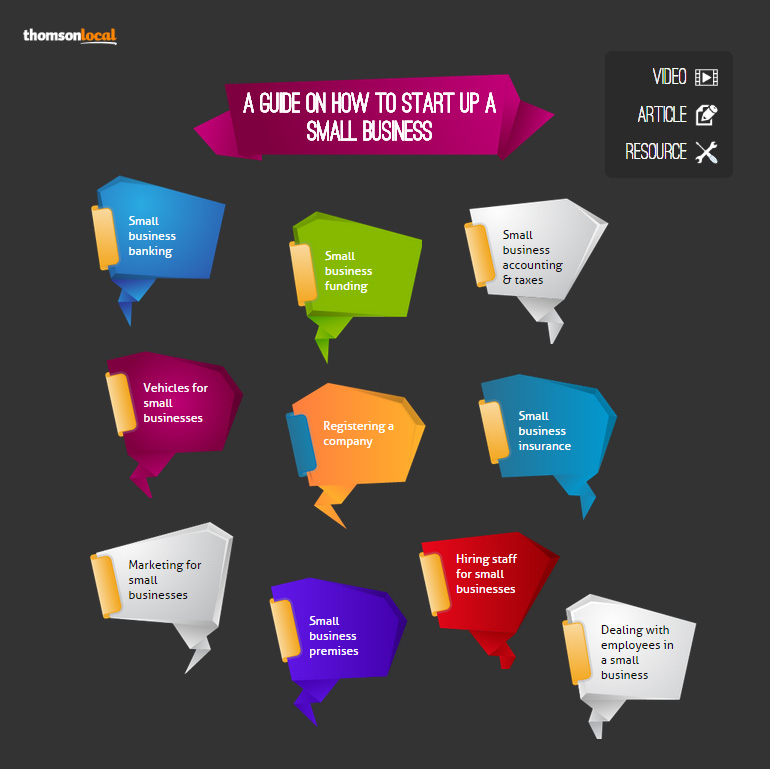 What is it?
This is an interactive curation of top-line information for people looking to start their own business, covering everything from taxation to employing staff. Much of the content linked to sits on thomsonlocal's own site, but the resource also links out to third party sites. Head here to view more of our content curation projects for this client.
Why content curations could work for you
The internet is awash with content, but it's not always easy to find the best or most useful stuff. Content curation – gathering up and organising content from both your own and third party websites and putting it all in one place – offers a one-stop shop for a particular topic your audience is interested in. You've saved them the burden of scouring all four corners of the interent looking for the information they need. Presenting the curation in an interactive format such as the above example improves the user experience.
[Back to top menu]
All About Party Bags – Princess Party online magazine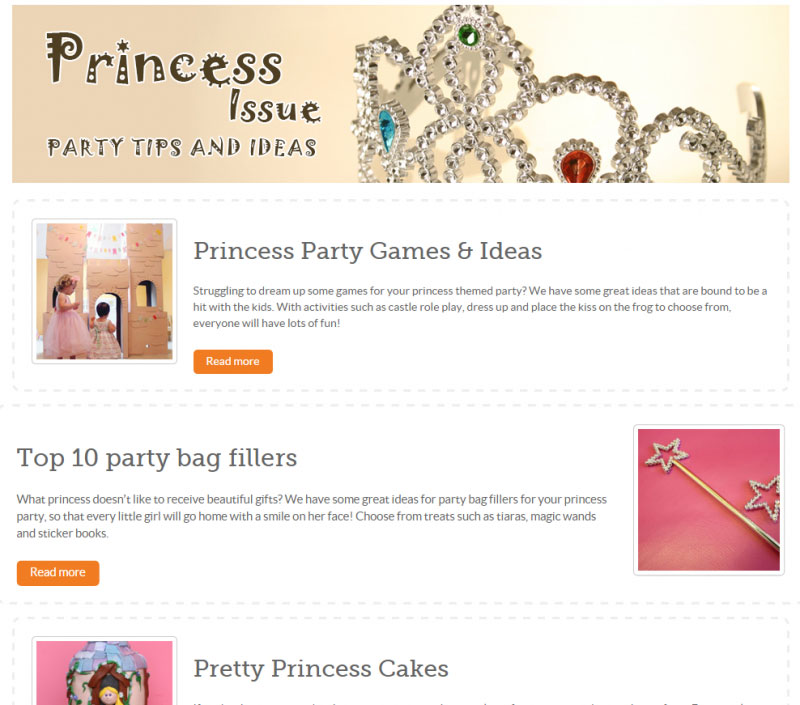 What is it?
This is one of a number of themed interactive magazines aimed at parents looking for inspiration for kids' parties. Each issue of the magazine includes recipe ideas for cakes and other party food, ideas for party games, free printable party invitations and decorations, and of course the best party bag fillers. In other issues we've covered Pirates, Fairies, Christmas, Halloween and Weddings!
Why online magazines could work for you
There are a bunch of third-party apps (such as Issu and Flipboard) that allow you produce your own online magazines. The downside to these is that the content is being hosted on an external website, not your own, so it probably won't help your rankings. Far better, then, to have your own interactive online magazine hosted on your own website. As to what goes in each of the magazines, that obviously depends on what your audience is interested in but the possibilities are limitless.
[Back to top menu]
NewDeal FairDeal – Injury Compensation Calculator
What is it?
This client is a solicitors that deal in personal injury claims. The calculator tool allows anyone who has suffered a personal injury through no fault of their own to quickly see how much they may be entitled to in compensation.
Why interactive calculators could work for you
Calculators work really well if you want to present how much money someone could save if they choose to use your product or service instead of another business's. Likewise, they can be useful if people need to calculate how much of something they need (e.g. litres of paint for a certain size room). We have also produced calculators that, after different questions have been answered by the user, provide a suggested product or service based on those answers.
[Back to top menu]
Byrne Associates – Liquidation Process flowchart

What is it?
One of a number of flowcharts we produced that offer a top-level snapshot of the various liquidation processes companies may have go through when their businesses run into serious trouble. The idea was to present the information in as clear and concise way as possible, and mostly free from confusing jargon and legalese.
Why flowcharts could work for you
Flowcharts are an ideal way to present process-based information in a clear and concise manner. The easier you can make it for your audience to understand something about your business or the products and services it sells, the better, especially if your sector is complex in nature.
[Back to top menu]
Tanners Wines Ltd – 'Winespiration' quote cards
What is it?
The client wanted us to produce something that would help with engagement on their blog and social media channels. The resulting project was a series of quote cards about the wonders of wine. We found quotes by all manner of famous people, from Joan Collins and W.C. Fields to Shakespeare and Plato, and overlaid them on nice wine-related imagery. Simple, but highly effective.
Why quote cards could work for you
Even if you only dabble in social media occasionally, you'll probably have noted the popularity of so-called 'motivational' quote cards. Take the format but use quotes relating to your specific industry and audience and you have some nice bite-sized pieces of easily shareable content.
[Back to top menu]
DNA WorldWide – History of DNA interactive timeline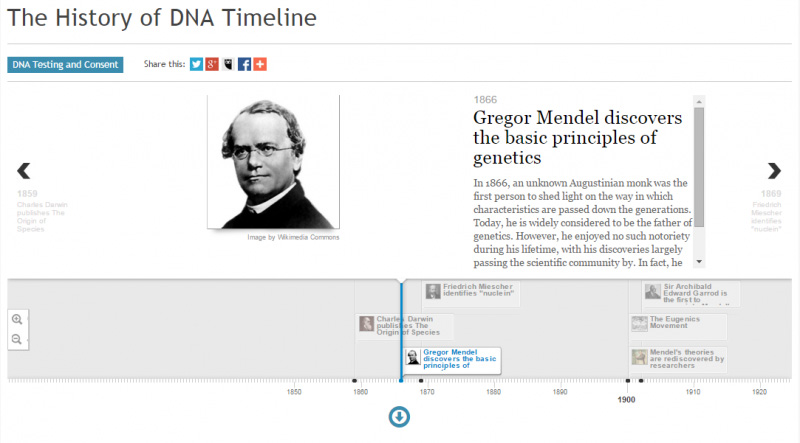 What is it?
The title says it all. This is an interactive timeline detailing the key scientists and scientific discoveries relating to the field of DNA. Scroll right to view the history, then click on each specific timeline entry to get a more detailed description of the event in the text underneath the timeline.
Why interactive timelines could work for you
Whether it's your company history or the development of a product or a service or even an idea, an online timeline is an excellent way of communicating a story in a visually appealing, interactive way.
[Back to top menu]
Dunster House – competition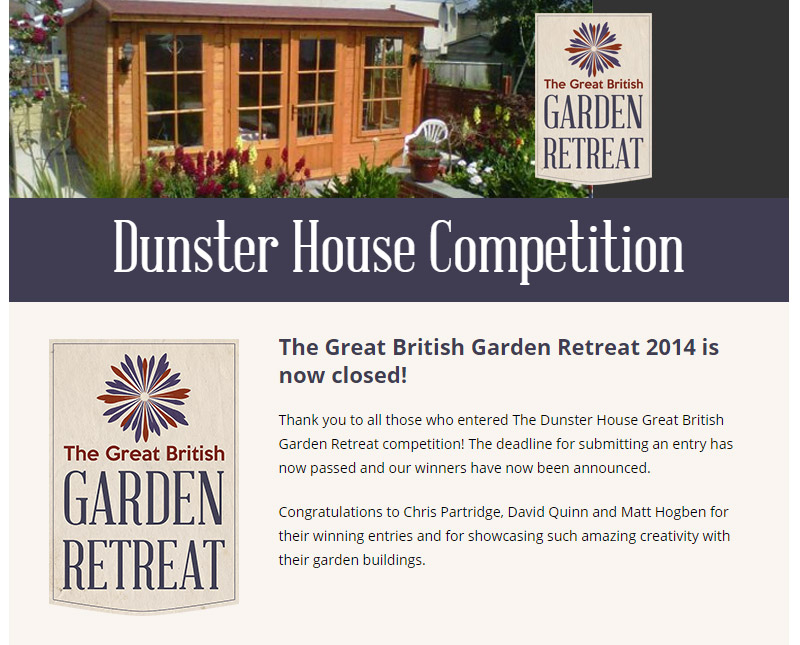 What is it?
This competition was run with the intention of getting our client's customers to show off how they were using their garden building. We planned, launched and administered the competition, then turned some of the successful entries into 'case studies' to inspire the client's potential customers.
Why competitions could work for you
Who doesn't like to win something relevant or important to their lives? If you've got something of value to offer as a prize (and value doesn't automatically mean 'monetary value') then competitions – when done properly – can help grow both brand awareness and your audience size.
[Back to top menu]
Dr Fox – Student Health Guide microsite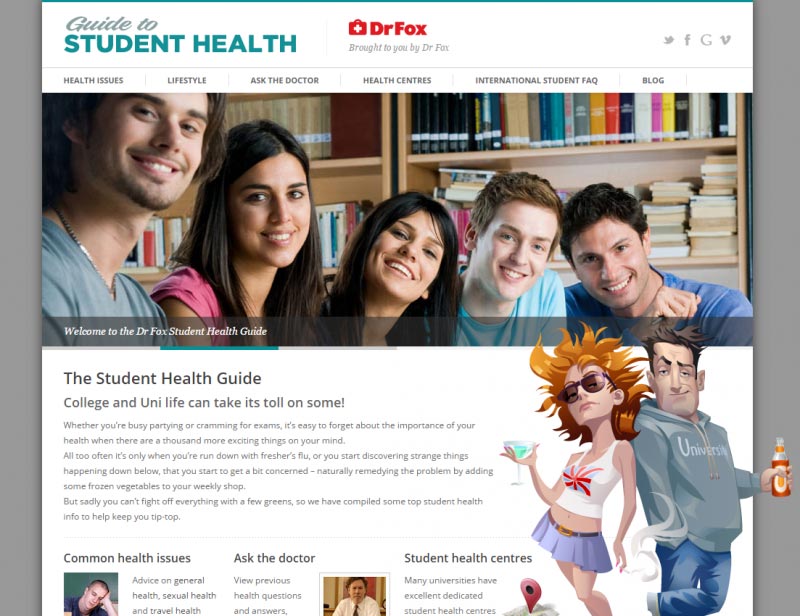 What is it?
The second of our microsite examples was designed and developed to attract students and inform them about potential health hazards and staying healthy while at university.
We explain why microsites could be a good content marketing choice for your business in this section above.
[Back to top menu]
Art Gallery – editorial feature

What is it?
Just one example of the many, many editorial features that our team of professional writers and former journalists produce every month. Our editorial team can write engaging copy about any subject matter and any industry in both the B2B and B2C sectors.
Why editorial features will always work for you
Editorial features and blog posts are a fantastic way of communicating all manner of things. It could be news about your company or its products or services, it could useful information you want to convey to your audience, or it could be an interview with a key figure in your industry; the possibilities are infinite. You name it, we can write it, and we'll ensure it gets read by the target audience, too.
[Back to top menu]
We also do creative work for our own website. Why not visit our Digital Marketing Resources hub and take a look? Here you'll find helpful stuff such as a Content Marketing ebook, a Google Plus for Business ebook, and a guide to the best Online SEO Tools. It's all free, too!
If you'd like to find out more about how Content Marketing can help your business to thrive online, please visit our Content Marketing service page. Alternatively, you can call Mark Poppleton on 0117 971 2499 or get in touch via our contact form.