Google's Hummingbird and Penguin; A Perfect Storm
by Matt Wooller on November 4, 2013
In a timely coincidence, a few days after I decided to write this post, headlines like this began to spread across the UK media landscape. With its usual morbid delight, the press was foretelling the impending doom and destruction due to be visited upon on our islands by a particularly nasty early winter storm.
What does this have to do with Hummingbird and Penguin? Well, as I see it, these are game changers for the search landscape. Anyone that's been monitoring the industry over the last 18 months will know that Penguin has already changed the game in a big way for many site owners. I believe Hummingbird, while a different beast to Penguin, will have as much impact in the longer-term.
Combined, they are going to create a Perfect Storm for lazy marketers.
(The "Perfect Storm" of 1991 saw two separate weather systems combine to create an unusually powerful autumn storm that wrought havoc on the east coast of North America. George Clooney and Mark Wahlberg starred in a movie based on a book charting the real-life experiences of a trawler crew caught up in the storm.)
Hummingbird: The Nor'Easter
Hummingbird was a fundamental change to Google's algorithm. The equivalent of putting a brand new engine into an old car, Hummingbird will allow Google to understand more complex search requests. The new algorithm is better at understanding natural language rather than just keywords.
For more background and technical detail on Hummingbird, the following are well worth a read:
For me, Hummingbird won't change the search landscape overnight. In fact it didn't, it was in place for a month before Google even announced it. Nobody noticed.
The reason it's important for the future of the search landscape is that it gives a clear signal as to the direction in which Google wants to take its algorithm.
People's behaviour online is changing, with searches becoming more conversational, in some cases driven by innovations such as voice search. As a result, Google needs to shift the basis of its algorithm from basic keyword matching to a deeper understanding of web content.
When delivering results for a search query, criteria that Google needs to understand beyond just on-page keywords include:
Does the page provide value to the searcher?
Is the information unique to the page?
Is the page well regarded by others?
Is the information presented in the best format for this particular searcher?
Is the location of the business serving the results relevant to the searcher?
Very few of these questions can be answered by keyword matching alone. In addition, Google not only needs to use the above criteria to match the query with the most relevant pages, but also understand the relationship between those criteria. For some background on how Google (and other search engines) are working towards understanding these relationships, this post by Bill Slawski is worth a read.
For online businesses, this means websites designed to provide keyword matches to a range of search terms will lose out. Sites that provide detailed, useful and highly regarded content will win.
To put this in context, if your website looks like one of the two pictured below, you're probably going to be in trouble.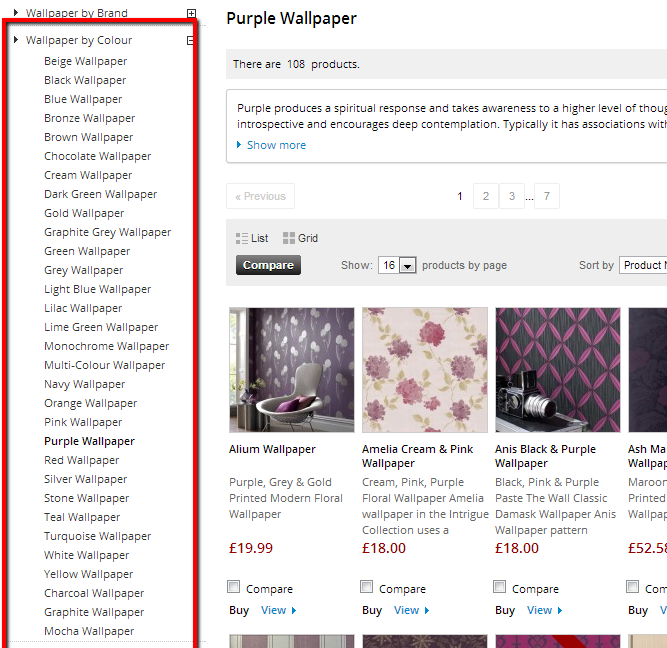 Above: So many colours! The days of targeting specific keywords in this fashion are behind us.
Above: These guys get bonus stupid points for thinking Mid Glamorgan is part of Scotland.
Penguin: The Hurricane
Like hurricanes, Penguin updates don't happen very often; a few times a year at most. When they do happen, though, they are often unexpected and can have a devastating impact on commercial website owners.
Penguin is Google's primary method of fighting link spam. For too long it has been possible for site owners to 'game' the algorithm by building links to their sites in bulk, in order to prove 'popularity' to Google. The kinds of links now deemed to be undesirable as a result of Penguin include:
Bulk, automated directory submissions
Bulk, automated article marketing
Forum comment spam
Blog comment spam
Social bookmarking spam
Paid links
Sadly, the pain isn't going to stop there for online businesses. After these tactics became no-nos many turned to guest blogging as an alternative source of links. Now it appears that the writing is on the wall for them, too. Matt Cutts, the head of Google's web-spam team, recently addressed the topic of guest blogging:
Searchengineland summarised some of the main points Cutts makes in the above video:
"When his team reviews spam reports, there is usually a clear distinction between organic guest blog content and someone who is paying for links."
"Cutts identified specific differences between spam and organic guest blogging content, confirming the spam content doesn't match the subject of the blog itself and will contain keyword rich anchor text."
"He emphasizes that if guest blogging is all you are doing to drive traffic to your site, you're probably not doing any favors for your site's reputation."
The takeaways from this are:
Guest blogs are being reviewed in spam reports.
Google are examining how to distinguish between organic guest blog content and someone who is paying for links.
The specific differences are that spam content doesn't match the subject of the blog itself and will contain keyword rich anchor text.
It is more than likely that human review of spam reports is what feeds into algorithm updates such as Penguin. We can therefore be confident that in the near future sites that are heavily invested in "spammy" guest blogging will suffer.
As Cutts says, guest blogging in itself is not spam. However, we can safely assume that any guest blogging that is carried out only to get links is the kind of activity that they would class as spam.
Website owners should be focusing purely on guest blogging that raises their profile within their industry, increases awareness of their brand among their target audience, or has the potential to drive relevant traffic to their site.
In short, if your future guest blogging strategy is focused purely on getting links to your website, you're probably going to be in trouble.
The Perfect Storm
In isolation, your site being hit by either of these updates would be bad. The reason why the two together combine to create the Perfect Storm is that if your site is at risk of one, it's most likely at risk of the other. Here's why:
A few years ago, the internet was an easy place to make money. Competition was sparse and barriers to entry were low, particularly as Google's algorithm was so easy to game. It was relatively easy to stick up a basic website, get your keyword targeting right, build a few links and start attracting traffic to your site without the need to build a real audience for your brand.
As a result, a lot of laziness occurred. Online strategies revolved around heavily keyword-targeted web pages combined with bulk link-building. Unfortunately, many sites still fit that model. The smart move would be to adapt and focus on strategies that deliver value to customers. Many sites, though, have kept their keyword-targeted pages and simply moved linkbuilding from bulk directory and article submissions to bulk guest blog posting.
As Google ramps up its spam fighting and continues to develop a better understanding of web content, these are the sites that are most at risk.
Batten down the Hatches
So what can you do if your site falls into this category? The thing not to do is to run out and try to find the next source of cheap links or build more pages targeting more keywords.
What's needed is a shift of mind-set. Rather than thinking about how you can get traffic to your site, think about how your site can deliver value to the customers you'd like to attract. Here are some strategies to consider:
On-Site Content
Think about the kind of questions your target audience have around the product or service that your site offers and create content that focuses on answering those questions. There are various ways to find out what these questions are:
Asking your customer service team for common queries
Looking at the terms people enter into your site search box
Conducting customer surveys
Analysing what people say when they review your business online
Carry out usability testing
Research your competitors
Once you know what information people need to solve their problems, think about the best ways to provide them with that information. Remember, content isn't just words! Any of the following content types may suit your product/service and audience at different stages of the conversion funnel:
Text
Images
Video
Audio
Product data sheets
White papers
Infographics
Buying guides
Blog posts
Online tools
Mobile apps
Finally, think about why people should buy your product and service from you, and not one of your competitors. Given that barriers to entry online have traditionally been low, chances are you're not unique in offering the product or service that you sell. What is it that makes your business the one people should go to?
For an idea of how the perfect web-page might look, check out this post from Moz.
Off-Site Content
First and foremost, DON'T FOCUS ALL YOUR ATTENTION ON JUST GETTING LINKS! Concentrate instead on raising awareness of your brand and its product or service among your target audience. The links and the traffic will come because people love your brand and your content.
Do some audience profiling
Create searcher personas for your product or service, and then find out where those personas hang out. Find out what publications they read, both online and offline. Find out which social media sites they're particularly active on. These are the sites and publications where you need to be looking to feature your content as they're the ones that have the potential to deliver your target audience to your site.
You can find more on searcher personas here.
Build relationships
Find out how to get in touch with the sites that your audience hangs out on and start talking to them. Find out what sort of content their audience is interested in; could you provide this content for them? If they're open to you providing content, don't ask for a link! Remember, they're doing you a favour by exposing your brand to their audience. If they give you a link in the process then it's a bonus.
If you want to get started building relationships with other website owners, SEER have put together a great guide.
Clean up
If you know you've got links to your site that Google wouldn't like, take them down. They won't be helping and are only likely to do harm as Google refines the spam-fighting parts of its algorithm.
Diversify for the Win
A marketing strategy that relies on a single approach will no longer cut it in today's online marketplace. Here are some essential tactics to employ in order to make your business successful:
Embrace PPC
If you're solely relying on organic traffic for sales then you're hugely exposed. Allocate some budget to paid search advertising. Relevant traffic is almost guaranteed if you can get your budget and targeting right. Remember that every person you attract to your site in this way is a potential advocate for your brand in the future. Serve them well and they'll come back and buy again and tell their friends about you.
If you're a newcomer to PPC (Pay Per Click) advertising, this beginner's guide to PPC from Wordstream will give you a jump start.
Use social media to engage
Once you know which social media channels your audience are on, work out the best way to engage them on these channels (bonus hint: It's probably not posting pictures of cats, details of how great your brand is, or generic "It's Friday!!!" shout-outs). If you can get people to engage with your brand on social media then you're creating the opportunity to drive traffic and sales to your site without it even touching Google.
Social Media Examiner has a lot more information if you want to know how to do things right.
Start emailing your customer
It always surprises me how many businesses spend years building a database of customers that they never market to. These are people that have already bought your product/service at least once so it's only polite to keep them updated if you're bringing out new products, special offers or have simply added something new to your website that they or their friends may find useful.
Not sure where to start? MailChimp is a great service with some useful resources.
Look local
If you have physical premises or serve a local area, find out whereabouts in the real world your audience hangs out. Go along and meet people, introduce them to your brand and your products or services. Remember that just because you're meeting them offline it doesn't mean that they're never online. Impress them offline and there's a good chance they'll mention you favourably when they're online as well.
To find out more about the search landscape for local business check out Mike Blumenthal's blog.
Conclusions
Yes, a storm is coming, and it's likely to be a big one. However, there is still time to prepare and change your approach to marketing in order to lessen the impact. To summarise:
Create content that your audience, not Google, wants to see
Differentiate your service from that of your competitors
Stop focusing on links, start focusing on exposure and brand awareness
Diversify your marketing
Do this and the worst that can happen is that you serve your customers better, reach new audiences and find new sources of traffic for your site.
The best that can happen is Google will reward you for it.
For more on what's important in search right now, check out our interactive guide to SEO.
Want to find out more about how Strategy is helping its clients prepare for the coming storm, and how we can help take your business to the next level? You can get in touch here.
Image credit: NASA via spacefellowship.com
Share this article