We are a performance driven digital marketing agency specialising in Content Marketing, SEO, PPC and Social Media
About Strategy Digital
About Strategy Digital
We are a performance driven digital marketing agency specialising in Content Marketing, SEO, PPC and Social Media
We are a performance driven digital marketing agency specialising in Content Marketing, SEO, PPC and Social Media
As the internet has grown in complexity, and with Google now dominating online search, digital marketing has become an increasingly challenging beast.
When it comes to maximising your organic search, paid search and social media performance, you need an agency that's always ahead of the curve.
Getting more traffic to your website is only half the story. The expectation levels of internet users have gone through the roof, so emphasis must fall on converting your visitors into paying customers or active leads.
For years we've been enabling our clients to do both.
A New Chapter
In the latest chapter of Strategy Digital's history, the company has been acquired by Fat Media – one of the largest digital marketing agencies in the North of England.
David Durnford, owner and CEO of the Lancaster-based agency, says of this latest exciting development within his business:
"I'm delighted to welcome Strategy Digital into the Fat Media family. We have been really impressed with the team. Their enthusiasm and expertise will help us to further build our social and search capabilities within Fat Media, as well as providing the foundation for a full-service digital offering based in Bristol to complement our offices in Lancaster and London."
Fat Media's client list includes household brands such as Typhoo, JD Sports, Glaxo SmithKline, Warburtons and Mitsubishi.
18 Years' Experience
Strategy was founded 18 years ago. That's two years before Google started . Since then we've grown to become one of the largest Digital Marketing agencies in Bristol and South West UK.
Our clients have come from nigh-on every sector imaginable, from travel to transport, from cosmetics to clothing, and from technology to teacher aids.
We've worked with businesses that range from huge consumer ecommerce sites to niche B2B brochure sites. No website is too big and no market is beyond our reach.
From the content we create to the PR campaigns we run to our comprehensive monthly reporting, performance underpins everything we do as an agency.
This ethos is perhaps best represented by our performance based pricing model, where you pay for increased sales, conversions or leads resulting from our work. Read more about that here.
Trusted Online Experts
Strategy Digital is a certified Google Partner. We don't have the t-shirt, but we do have this badge:
What does being a Google Partner actually mean? We'll allow Google to explain:
"Google Partners are online marketing companies, trusted by Google. The badge recognises companies that excel with Google's products. Their businesses are healthy, their customers are happy, and they use Google best practices."
You can find out more about Google Partners on this section of Google's website.
We're also a Bing Ads Accredited Professional. Bing gave us a badge too:

The badge means we are:
"Advertising and marketing professionals qualified to meet your Bing Ads campaign need… they've been trained and tested on their Bing Ads skills and recognised for their outstanding expertise."
We're still working hard to earn a Blue Peter badge.
A Growing Team
You can gauge how we've grown by the size of our milk bill. Back in 1996, a pint of red top would have lasted all day. Currently we're shipping in nearly 90 pints a week. Perhaps we should cut out the middle man and buy a cow.
Today the team is made up of around 50 digital marketing professionals and support staff. Our areas of expertise cover everything from technical SEO and client support to editorial and graphic design.
All work is done in-house at our head office in Bristol but we're a multinational bunch, with staff from places as far flung as France, Italy, Germany, the US and Dorset.
Sometimes we like to dress up to raise money for local charities…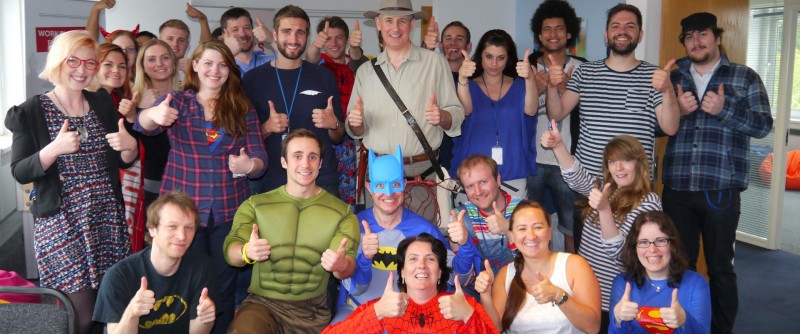 .
The Latest Technology
Digital Marketing isn't about technology. It's about people; reaching them, engaging with them, helping them and ultimately encouraging them to become your customers.
That said, it's always nice to have the best tech under the hood to help reach those goals.
At Strategy Digital we employ the latest, best-in-class, fit-for-purpose tools and software to help us achieve results for our clients (and if the tech doesn't exist or doesn't quite match our needs, we'll build our own.)
Head here to take a look at the Digital Marketing technology we're currently using.